Digital tools Q & A with Housebuilder magazine
Wednesday, June 20th, 2018
Adrian Wild, founder of the HBXL Group and Managing Director of Integro Construction Software, recently answered questions from writer and journalist, Chris Windle who was producing a feature on the latest products on the market and how digital tools could most effectively be used, for Housebuilder Magazine.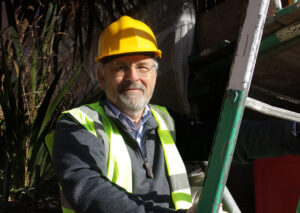 Q: Are housebuilders getting the most from digital tools? If not why not, and what can the industry do to change this?
A: I believe many house builders, even quite large ones are not particularly digitally enabled. Many builders are still using 2D CAD systems. In contrast to more sophisticated builders who are using the likes of Revit to improve their drawings.
But relatively few are using these 3D models to generate schedules of materials and estimates direct from the plans. More so, if they are having to link it up with other software products. Virtually no house builders have automated systems to utilise data generated direct from their 3D Models to assist in the construction phase. And that includes Gantt chart preparation, automated scheduling and aspects such as Health and Safety Management.
I understand that many if not most house builders are still printing out their drawings. Additionally, using their traditional methods and standalone systems to take off the dimensions and generate schedules and costings. This information, particularly for larger builders, will then feed their various management systems that run their businesses… so you can see the view that 'house builders need to adopt BIM' is a very complex process to introduce.
Q: What benefits would wider adoption of digital services and tools have on the house building industry?
A: It is interesting that you use the term "digital services and tools".  There seems to be a shift away from encouraging house builders to adopt "BIM". This is good news as far as we're concerned. House builders would describe "BIM" as made up of vocabulary and complexity that is outside of their usual approaches to building.
However adopting a fully integrated digital approach can introduce efficiencies into a house building business, perhaps more so than other parts of the construction industry, which have already introduced BIM into their way of working.
For non-house builders, nearly every project is totally different and in many cases all the contributors to the project change each time… Architect, Main Contractor, Groundworker, Bricklayers, Plasterer or Plumbing and Heating Engineers etc.
Whereas in house building, repetition is often the name of the game. Even large house builders are drawing from a library of 20 designs. Mostly adapted for the local market for external envelope and internal spec.
In order to keep productivity consistent many builders will be using a small pool of contractors who get to know how the developer operates and what is expected…whilst at the same time keeping them on their toes in terms of price.
Perfect for digital construction.
It's an extremely compelling proposition. However, it saves time and money and make everyone's lives less stressful!
Users can load a standard design, quickly adapt for local ground conditions, roof-lines and external materials etc. And then automatically generate all the information required to cost, schedule and run the project.
The problem we have today with the mainstream CAD, Estimating and Project Management "digital solutions" is that none of them are "Out of the box" ready to use. They require the builder to piece together various separate software packages to create an end-to-end solution. These separate systems require a significant amount of time, expertise and investment to purchase and install, configure and populate with the builders' own standard specifications.
They then require many months of training to configure to accommodate the library of designs in use. Moreover, shift in demand and staff turnover complicates this further. One company struggled for four years to get their models sorted.
We need a fully integrated system from the start to do the trick.  It will be able to reuse the existing portfolio of designs and as a by-product, automatically produces all the information to construct the job…using the builders' current materials supply chain and labour resources and prices.
Q: Why should house builders consider using your products and services?
A: A good question! Well, we have recently released our new system BuildingWorks which addresses many of the challenges I described above. BuildingWorks is also extremely easy to use and as it is fully populated with over 15000 materials specifications and almost 10000 rates, users can be up and running in just a few days.
The new release of BuildingWorks currently comprises 2D and 3D CAD with Photorealistic 3D, all other data is then instantly generated from the drawing by BuildingWorks including fully detailed estimates which schedule all material plant and labour using live materials pricing, Bill of Quants to NRM standards, customer friendly quotes, hundreds of management reports and a detailed instant Gantt charts generated from the drawing and allocated labour.
Q: If and how do your products integrate with BIM?
A: As you can see from the above BuildingWorks is a total end-to-end BIM solution with many automated features built in to assist all levels of the team. The drawing associated data is all contained within a single file stored in the cloud. This allows access between all members of the team ensuring a single source of information. BuildingWorks can also import drawings prepared on other systems. This will allow the user to quickly trace over to generate all of the BIM data.
Q: What digital innovations do you think will become mainstream in the near future in house building, and why?
A: I believe it will only be a matter of time before BuildingWorks is commonplace amongst builders. It is so easy to use and implement. As well as, its price point means that any sized building company can afford to use it.
Moreover, business use drones now to survey sites. As well as, heavy plant being commanded by digital drawings to reduce levels on site and even assist operators to excavate foundations without the need for detailed setting out and profiles for foundation.
Find Adrian's comments in the July issue of House Builder Magazine.