HBXL Estimating Service: providing you with expert quotes winning you business.

If you've got too much estimating on your plate, our colleagues at the HBXL Estimating Service can estimate your projects for you. The HBXL Estimating Service will provide you with expert quotes that win you the business, so you can get on with running your business.
The HBXL Estimating Service is fast and friendly, and guarantees a quick turnaround on quotes. If you're a builder and have an extension, new build, garage or loft conversion that you need pricing up, the team's expert estimators will price it quickly, yet accurately.
And if you're an EstimatorXpress user, you are in a unique position. Once your estimate is completed by the HBXL Estimating Service team they then give you the software job file for ongoing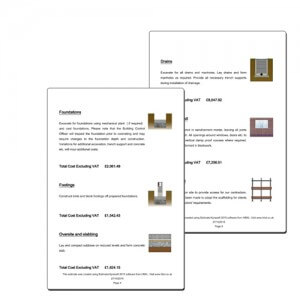 management in your copy of EstimatorXpress. No other estimating services have an integrated set up that gives customers the flexibility to make changes in their own estimating software once the job's been estimated for.
Fast response – Rely on them to price your job and get it back to you quick smart. They hit their deadlines every time.
Worry-free – Peace of mind, knowing your project is accurately priced down to the last screw – with your profits built in.
Professional – Proudly present your quotation to customers. Supply your logo and they'll brand it for you too!
Value for money – Their pricing is highly competitive. Not the cheapest, but definitely the most accurate & reliable in our opinion.
A cut-above – They're proud to be different. Their service standards are second to none they like to think.
If you'd like more info on the HBXL Estimating Service, please fill out the form and someone will be in contact soon.
Alternatively, if you'd like to contact us directly, please email Ian Clark at estimatingservice@hbxl.co.uk or call him on 0845 1234 095 or 0117 916 7894. (9am-5.30pm Monday to Friday)
 Challenge EstimatorXpress!
If you're thinking about purchasing EstimatorXpress, or looking to go for the new Visual Estimating Combo, but want to try it out first then you can pay for an estimate from the HBXL Estimating Service and let us prove just how professional and accurate your estimates could be.
You'll get an affordable, accurate and professional estimate that you can submit to win the work. Then when you come to buy the software we will discount 50% of the cost of your estimate from the price of the software*. Now you can't say fairer than that! PLUS, we'll put you on a free 14 day trial of the software so you can be getting up-to-speed while we're putting together your estimate – and we'll load the estimate into your software for day 1!
* Please note – up to a maximum discount of £300. Terms and conditions apply.
For more details view: Estimating Service – T & Cs