Who can produce a professional Bill of Quantities (BoQ)?
Friday, June 23rd, 2017
Well the BuildingWorks Estimate Professional QS software can in the hands of a building firm or designer. You can choose to produce a customer-friendly type quote or a Bill of Quantities (BoQ) using the New Rules of Measurement (NRM) standard (which has superseded SMM7).
(In case you're interested NRM 1 was first published in February 2009. It's now on its second edition. NRM2 was published in April 2012. It became operative on 1 January 2013. Which replaced the Standard Method of Measurement, seventh edition (SMM7) on 1 July 2013.)
But can today's newly qualified Quantity Surveyors?
The Construction Enquirer reported that the latest Construction Market Survey Q1 2017 from the Royal Institution of Chartered Surveyors (RICS) highlights increasing anxiety over the standard of Quantity Surveyor recruits.
Among the RICS members questioned, Ian Millar of Michael Jarrett Ltd from Newcastle Upon Tyne said: "Too many graduates are told they are able to work as Project Managers etc. instead of learning the basics such as being able to take off quantities and produce a Bill of Quantities."
So what about the more well established Quantity Surveyors?
Well they're in short supply, as the Construction Enquirer has reported. Following the RICS survey results issued for Q4 2016, head of policy at RICS Jeremy Blackburn declared that according to the government's Shortage Occupation List: "It is easier to employ a ballet dancer than a quantity surveyor," adding, "Many firms are currently having to bring construction professionals in from outside the UK…The shortage of quantity surveyors is impacting on the development process at the present time."
BuildingWorks provides the solution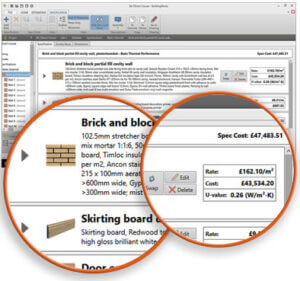 It's easy to produce Bills of Quants (NRM format) in BuildingWorks. You can do it in one of 2 ways.
1) You can either import plans as scans or other drawing files into the BuildingWorks Design module OR actually originate the plans from scratch and BuildingWorks Estimate module then prices them and produces the Bill.
2) You can produce the Bill of Quantities directly from the estimate, building up your estimate using the pre-populated rates library.
The Estimate Professional QS module includes Elemental Bill of Quantities, Work section Bill of Quantities, priced or unpriced, with manufacturer brands named or unbranded.
Ideal for building firms
The incredibly accurate Bill of Quantities prices project automatically without any additional inputs. You can produce a priced or unpriced Bill depending on who it's for. The software also automatically produces a whole host of useful reports for the builder (no typing required) to show you the money you're likely to make on the job, if you can afford to negotiate at all on price if the customer wants to haggle, your cashflow and what power you have to bargain with suppliers over materials.
Ideal for house builders and developers
For house builders and developers the Bill of Quantities is crucial for nailing prices with contractors and sub-contractors. Everyone's on a level playing field and you'll get back like-for-like quotes. It's also a ready reference throughout the job to check on any variables. And the BuildingWorks software is fast, cost-effective and 100% accurate.
Ideal for architects and designers
Additionally, BuildingWorks gives architects and designers the opportunity to provide indicative summary estimates of construction costs in the early stages straight off the back of building plans developed in the Building Works Design module or imported from a 3rd party CAD package such as AutoCAD, then traced over within Building Works Design module. As the project progresses you can release extra cost data to the client.  Moreover, from client-friendly cost breakdown to detailed cost breakdown or detailed NRM Bill of Quantities – No extra cost to you. How? The original work produced in BuildingWorks allows you to 'release' (by clicking another button) the details already completed for you!
Want to know more about BuildingWorks?
There are many features within the BuildingWorks software suite that make it the perfect choice for today's building firms, developers, architects and designers. Read about the BIM approach BuildingWorks adopts and the collaborative opportunities the software provides. Ring us on 0117 916 7880 to chat about your own business and how we might be able to help. You can also leave us an email at hello@getbuildingworks.com.temp.link or you can sign up for a free trial and 1-2-1 demonstration.