BIM data or digital data – what the future looks like
Wednesday, June 20th, 2018
Article from June 2018 issue of Professional Housebuilder & Property Developer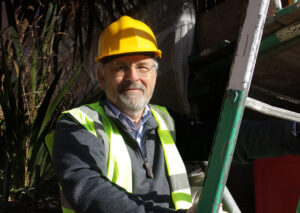 Adrian Wild, once a builder and developer, is now Founder of Integro Construction Software's BuildingWorks, an integrated construction software suite for small to medium-sized businesses. Here he explains the role he believes digital construction has to play in smaller firms.
Research indicates construction, in particular the smaller end, is one of the least digitised industries in the UK. But now that's all changing.
Digital construction is here and it's growing at a rapid pace. Building companies with less than 50 employees are now also recognising just how important it is for them to employ digital techniques to remain competitive. They're keen to set themselves apart from those still content living in an analogue age. The future looks exciting.
However, for these forward-thinking businesses, it's not so much robotics, 3D printing, virtual reality and augmented reality that are setting their world on fire – it's the BIM data or digital data that is finally available to them.
As Joanna Mulgrew, our Operations Director, puts it: "BIM is suitable for every size of project. It is not defined by the number of people on a project team, nor is the size of the project's budget or its square meterage a determining factor for 'doing BIM.' It is about a work process; a coordinated, effective, holistic approach to getting a project completed."
Small businesses
The fact that SME developers and building firms hadn't previously embraced BIM wasn't because they had no interest in improving processes, it's because they hadn't been given a look in with relevant solutions.
There's been a disconnect. Many of the UK's building firms, in fact I'd go so far as to say most of the building firms, never come into contact with PAS1192, IFC files or COBIE. Their needs are therefore very different to those of the large firms who are currently employing BIM. And this means that much of the contents of established software products are unnecessary. Thus, would actually overcomplicate current procedures rather than make them easier.
These firms don't want to be importing and exporting data from one software product to another (although I'm not sure any building firm, however large, wants to be doing that). They don't want to be duplicating their efforts keying in information twice. They don't want the challenge of managing IFC linked systems (and often their shortfalls). And nor do they want to invest heavily in highend software tools that require some serious expertise. 
The future is straightforward
Builders want a clear and understandable explanation of the benefits of BIM. In our view, the ideal digital construction process for the SME housebuilder and developer:
is easy to learn and use, and comes with simple CAD tools
provides a 3D model, a full Bill of Quantities and detailed costings
can be up and running in days, if not hours
is one software toolset with a single source of data
facilitates information flow including a cost breakdown that builds live in real time on screen
is a collaborative system that can be accessed and shared across the project team including the build program
It took us seven years, significant investment, including funding from Innovate UK (previously the Technology Strategy Board), as well as input from the University of the West of England, to hone a digital construction product that would enable smaller businesses to make the step change required in the current housing market.
BIM data or digital data?
I referred to digital data before and it's a term my own company is using more and more. Are there moves afoot to drop references to BIM? I'm not so sure, but I do know that digital construction rather than BIM. Digital data rather than BIM data are less intimidating and more meaningful to the smaller developer and building firm.
Digital data is what drives digital construction. Our own library has almost 10,000 rates and 15,000 objects, each one packed with 2D and 3D geometry descriptions of the product, plus U-values, sizes and branding. They're all available from the UK's leading manufacturers, each one costed and regularly price checked. That's a valuable asset.
Since construction is a financially sensitive sector, we believe the system should be capable of working hard for the user. You should be able to quickly and easily swap building products and rates in and out of your costing breakdown to fine-tune your project's budget – or achieve the thermal performance values that you're after.
Intelligent solution
Housebuilders and developers want an intelligent BIM solution that will enable them to evaluate a site, see what can fit on it, then play with the budgets to ensure the development is optimally profitable.
But that's not the end of it. In this digital world exciting changes are constantly taking place with data and its transfer. We may have embraced the latest technology but our R&D team has to be one step ahead to remain best in class in the UK. That will also mean exploring partnerships to enhance our offering. This is just the beginning.
"Housebuilders and developers want an intelligent BIM solution that will enable them to evaluate a site, see what can fit on it, then play with the budgets to ensure the development is optimally profitable."
WANT TO KNOW MORE?
For a fully supported trial of the software visit our download page.
Why BuildingWorks? Check here >>