Digital construction: How to save money using design and estimating software for construction
Friday, May 10th, 2019
Digital construction is no fad. So ignore it at your peril! The process stands to save the builder, developer, architect or quantity surveyor, money. Serious money.
So if the whole construction sector gets on board then the digital way can bring down the cost of construction as a whole, making homes more affordable and energy efficient, which is equally good news for the industry.
The term 'digital construction' for us is basically a short hand definition of building firms who have adopted helpful, practical IT/building software to help run their projects end to end. Happily, BuildingWorks software is second to none when it comes to this.
BuildingWorks: instant costs for drawing plans
BuildingWorks is a productivity-boosting software package, which brings together each stage of the build lifecycle in an innovative, integrated and practical interface.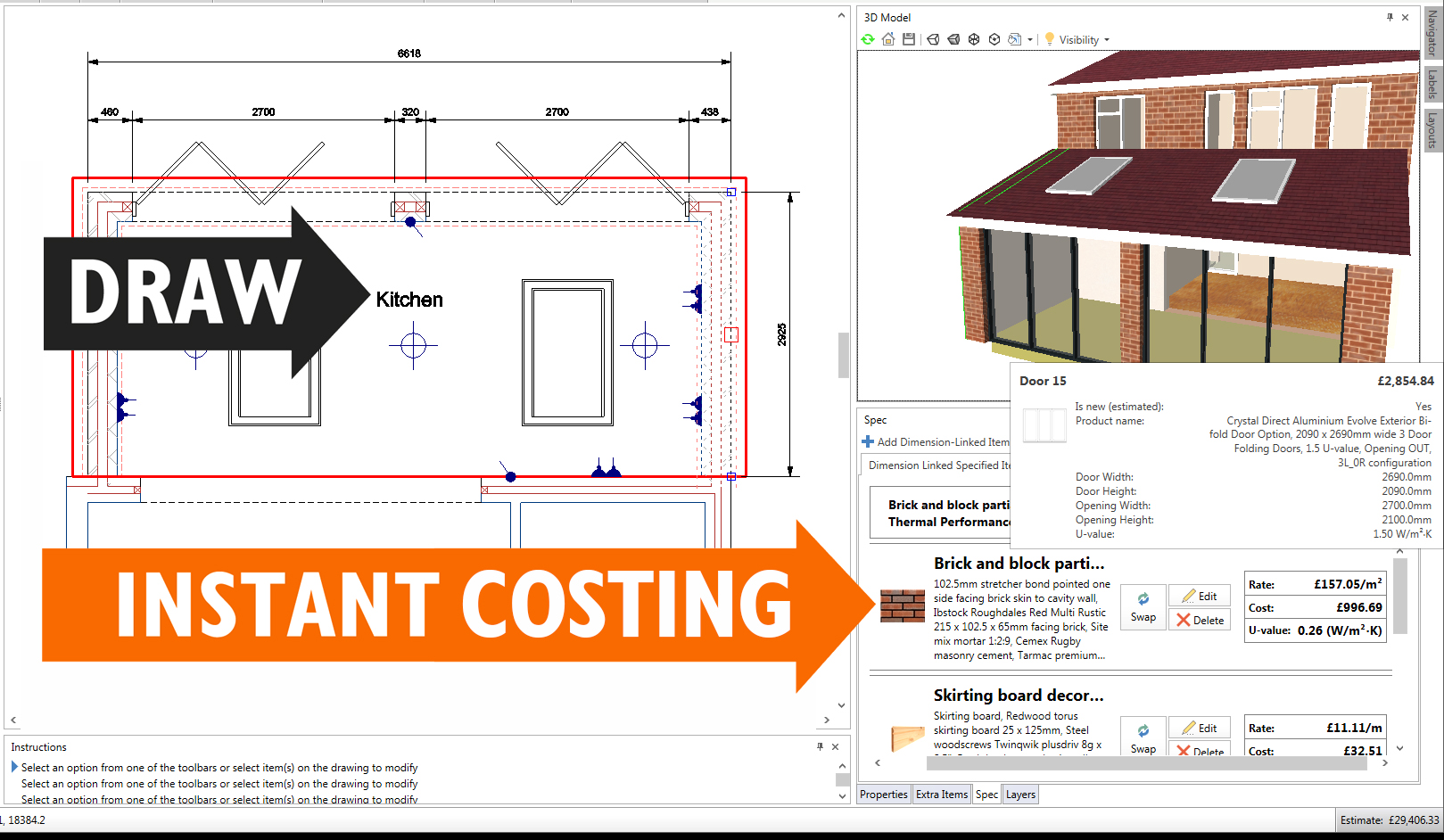 You simply draw your construction project plans using simple CAD tools whilst the software simultaneously builds up the cost of the project and calculates the thermal performance of materials specified.
It also creates a 3D model, a client quotation, a full Bill of Quantities, (NRM), detailed costings, build program and full schedule of works.
The clever software itemises materials, labour and plant required to construct the project. In fact everything you need to evaluate the feasibility and profitability of a project, win the project, and build it quickly to plan and specification.
Save money: the big difference
Digital construction over traditional (analogue) techniques has been heavily researched and the advantages include:
significant office based times savings
efficiencies in building
reduced time to build
capital cost savings and
reductions in errors as the project passes between designer and estimator.
In turn, BuildingWorks will help you:
Save time designing, specifying and pricing the project
Reduce staff costs – time saved avoiding data re-entry
Reduce the costs of alterations and rework
Avoid errors and information loss
Reduce actual construction costs by:

specifying the building plan effectively at the outset

ordering materials more smartly

delivering the project on time.
BuildingWorks is currently available from £24 per user per month per module based on a 24-month pre-payment subscription.
Want to know more?
So for a fully supported instant 30-day trial of the software visit our download page.
Or to find out more call us on 0117 916 7880 or email us at hello@getbuildingworks.com.temp.link and we'll get back to you as soon as possible.
www.getbuildingworks.com
Why BuildingWorks? Check here >>