Home offices: Covid-19's legacy for UK construction
Wednesday, January 13th, 2021
Home offices are clearly the way forward for many households as a result of the Covid-19 pandemic, which is good news at least for the residential construction industry. There are only so many hours you can spend at the kitchen table before a dedicated workspace becomes essential.
Tens of thousands of people are in their tenth month of working from home. And many companies are committing to making long term changes to their on-site working arrangements. For some this could mean a 3:2 home:office strategy, for others it could mean working from home indefinitely.
In fact long before Covid-19 people were re-evaluating their lives, weighing up how much time was spent commuting versus family time. According to a 2019 Lloyds Bank survey, the average British worker spent 492 days of their lives travelling into work – or around 10 days per year.
On top of a desire for a more balanced lifestyle, many homeowners have a bit more cash thanks to fewer opportunities to spend their hard earned salaries. There are tax benefits too to working from home. Then there's the resale value. So basically, they're prime for some structural changes.
Where to house a home office
The options are many and varied – a single storey extension; a double height extension with an extended living area and study on top; a loft conversion to house an office; or a separate building in the garden.
If homeowners choose the garden room route, and want to build it under Permitted Development rights, then they have some rules to follow. It can only be single storey. The eaves height must be a maximum of 2.5m, and an overall height of 4m with a dual pitched roof (3m for other types). Structures erected within 2m of a boundary can be no taller than 2.5m.
I've seen building firms 'pivoting' to offer this as a specialist service, alongside their more usual construction work. But whether customers are looking for separate outbuildings or extensions to their homes, presentation is everything when it comes to winning the work.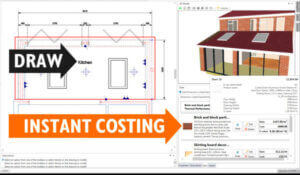 The Design & Estimate modules in the BuildingWorks platform, automatically produce for you; a client quotation, 3D photorealistic model, cashflow, profit forecast and a host of useful reports. It also puts you in the driving seat when it comes to negotiating with clients or suppliers. So let's talk about extensions, loft conversions, purpose-built home offices…
Want to know more?
For a fully supported instant 30-day trial of this integrated design and estimating process visit our download page.
Or to find out more call us on 0117 916 7880 or email us at hello@getbuildingworks.com and we'll get back to you as soon as possible.