Why digital construction is too important for smaller building firms to ignore
Thursday, September 13th, 2018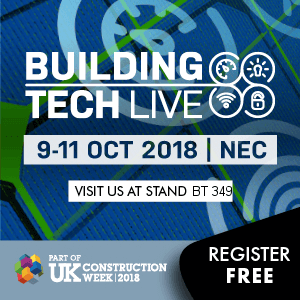 If SME general builders and property developers think digital construction is just for the big boys, they're not only mistaken, they risk being left behind. That's the message Adrian Wild, founder of Integro Construction Software and its award-winning BuildingWorks design and estimate product, will be sharing with the attendees at UK Construction Week.
He'll be taking to the Digital Construction stage in the Building Tech Live hall to report that all businesses can digitise their building business. They just need to be made aware of its fundamental benefits over traditional methods – and be armed with the right software tools.
A straightforward approach to digitising construction
Adrian explains, "Digital construction can be as simple or as complicated as you want to make it. At Integro Construction Software we opted for route one. And that has resulted in a straightforward system that seamlessly shares one set of data throughout each stage of a build lifecycle. And there's nothing like it in the UK to date. We're not talking compatible software products, there's no importing or exporting. It's one piece of software that literally costs in real-time as you design.
"In a bid to reduce connotations of complexity, we find we're referring to 'BIM' less and less. Yes we've created a huge library of 15,000+ data-rich BIM objects. But for the smaller end of the construction sector 'BIM' can sound high risk – too expensive, too complicated – especially when margins are tight anyway. Our subscribers seem to prefer the term 'digital construction' to describe what is essentially a highly cost-effective user-friendly process – well if you're using BuildingWorks!
"They're general builders, property developers, Quantity Surveyors and architects simply looking for significant office-based times savings; efficiencies in building; reduced time to build; capital cost savings and reductions in errors as the project passes between project stakeholders e.g. designer to estimator. And that's what the BuildingWorks modules give them."
Everything you need to win the project, and build it quickly
The pioneering software allows the user to draw a construction project plan using simple CAD tools whilst the cost of the project is simultaneously built up. It automatically calculates the thermal performance of materials specified, produces a 3D model, a client quotation, a full Bill of Quantities (NRM), detailed costings, build program and full schedule of works itemising everything required to construct the project (materials, labour and plant).
"In fact" Adrian points out, "everything you need to evaluate the feasibility and profitability of a project, win the project, and build it quickly to plan and specification."
BuildingWorks, which was only launched in early 2018, has already been afforded many plaudits. It was awarded 'Best Business Product 2018' by Housebuilder magazine, with the NHBC and HBF among the judges.
The platform was seven years in development in conjunction with the Technology Strategy Board, University of West of England and Innovate UK. So Adrian and his team were especially pleased to hear of the Government's focus on digitising construction within their Industrial Strategy – Construction Sector Deal launched in July 2018.
Adrian points out, "It's encouraging that the key players are now recognising that a digitally transformed sector can bring down the cost of construction – making homes more affordable and energy efficient."
Adrian Wild will be making his presentation on digital construction for SMEs between 13:45 and 14:15 on Tuesday 9th October 2018 in Hall 12 at the NEC Birmingham, as part of UK Construction Week.
To find out more call us on 0117 916 7880 or for an instant free trial visit here